Chinese
now browsing by tag
Ingredients
150g of egg noodles
dash of toasted sesame oil
300g of chicken breast fillets sliced into strips
dash dark soy sauce
1 tsp five-spice powder
1 tsp chilli sauce
1 tbsp cornflour
1-2 tbsp groundnut oil
1 red pepper
150g bean sprouts
1 large spring onion, sliced
2 tbsp light soy sauce
ground black pepper
Method
Cook the noodles in a pan of boiling water for 2-3 minutes.  Drain and rinse under cold running water.  Drizzle with a dash of sesame oil and toss through to prevent noodles sticking to each other.
Place the chicken strips in a bowl and season with a dash of dark soy sauce, five spice powder and chilli sauce.  Mix well, then lightly dust the chicken strips with the cornflour.
Heat a wok until smoking and add the groundnut oil, then add the chicken and stir fry for 3-4 minutes or until the chicken is golden brown and cooked through.
Add the red pepper and stir fry for one minute and then add the bean sprouts and spring onion and stir fry for 30 seconds.  Stir in the cooked noodles and season with the light soy sauce, a dash of sesame oil and freshly ground black pepper.
By Olivia
What you will need    
2 tablespoons of vegetable oil
200 g/7 oz long-grain rice cooked and left to be coll
100 g /4 oz of defrost peas reined in warm water quickly
4 spring onions chopped
1-2 tsp soy sauce
ground white  pepper
1 egg
Method
Beat together the egg and sesame oil and put to one side Heat the vegetable oil in a wok or large frying pan. When it's shimmering and almost smoking, add the rice and stir-fry for about 3-4 minutes until completely heated through.Add the peas, spring onions and beansprouts, if using. Stir-fry, turning the rice constantly around the pan, for about 3 minutes. Season well with soy sauce and pepper, then push to one side of the pan. Pour the beaten egg mixture into the other side and leave for about 10 seconds so it begins to set. Using a chopstick, briskly swirl around the egg to break it up and then toss around with the rice. Stir-fry for a further minute and serve straight away.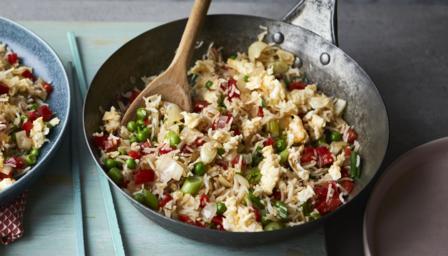 Eliza